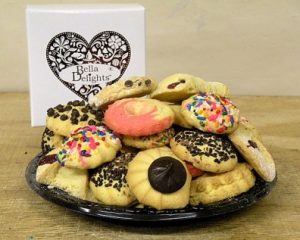 Gift Box includes: delicious assortment of homestyle gourmet cookies. Includes Italian cookies baked with traditional family recipes for over 50 years, croissant-style rugelach, fudge and oatmeal chocolate chip cookies. Bella Delights' fresh baked, sweet, soft and hard mix of incredibly delicious cookies.
May include the following cookies: anginetti lemon drop, chocolate jelly sandwich, chocolate drop, rainbow sprinkles, chocolate chip meltaways, chocolate morsel drops, cracked chocolate fudge, oatmeal chocolate chip, and croissant-style rugelach. Under OK strict kosher supervision. Parve. Pas Yisroel. Yoshon.
This gift is shipped from New York. Hand delivery is not available.