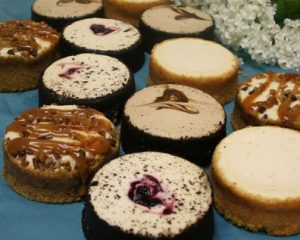 A sensational assortment of twelve ""mini"" gourmet cheesecakes in four traditional flavor styles. Surrounded and bottomed with graham cracker crust, David's 5 oz. cheesecakes are truly one of a kind. Each cake is made from the freshest ingredients: Pure cane sugar, whole eggs, pure vanilla extract, freshly roasted nuts, and real creamed cheese. The assorted cakes arrive ready to eat, and atractively packaged in a gold David's Cookies gift tin.
Styles include:
New York – Cream cheese blended with fresh eggs
Turtle -New York cheesecake base, topped with pecan bits, mini chocolate chips, and a caramel drizzle
Black Forest – New York cheesecake base, with a chocolate graham cracker crust infused with tempting swirl of cherry
Cappuccino – New York cheesecake base, blended with pure coffee extract and a graham cracker crust
~Important Handling Instructions~
If not being consumed immediately upon arrival, cakes should be placed in freezer. Allow two hours for cakes to thaw prior to serving. Under OU strict kosher supervision. Dairy.
This gift is shipped from New York. Hand delivery is not available.